Why did they make a sequel to a movie nobody really liked in the first place? Sure the first one banked some coin at the box office, but it wasn't a runaway surprise hit. The fact it's coming out almost ten years after it's predecessor doesn't help it either. Most of the audience from that movie have grown older and moved onto doing more pleasant things in their free time than swamping in masses to see the newest kiddie flick down at the local cineplex. Does the brand name of a movie being franchised after a decade's time has passed really mean anything?
Apparently not, because not much is done to link the two besides the fact the animals live double-lives as secret agents and the inclusion of a few supporting characters tossed aside into even more minimized roles. In the end this sequel turned out to be just another half-assed kid's movie made by a studio running low on ideas. The first Cats & Dogs wasn't a classic either, but it was alright for the time and for a kid's movie it was a bit cute and had a kind of genial sweetness to it. In a way it was like a less accomplished and focused Toy Story trying to answer what it is your household pets do while you're out and about.
This one however is just plain rotten. It starts off promising enough with a clever parody of James Bond openings that's dog and cat flavored.. Nothing else besides the opening really works here.
For starters all of the characters are bad and you don't really want to root for any of them. There's even a mentally handicapped pigeon named Seamus thrown in it for comic relief. Ok, he's not really mentally handicapped, he just acts like it in an insulting way, hurled awkwardly into the group against the wishes of both cats and dogs alike to serve as the odd man out, acting retarded and being really annoying in almost every way one can imagine ranging from making brain-dead decisions to sputtering stupid one-liners that don't even come off as humorous. Even the canine and feline heroes of the story seem pained to endure his company.
The script is horrible and none of the animal related humor is all that funny. Luckily the screenwriters figured this out, the clever bastards they are, and decided to punish us with even less funny movie references that nobody in it's target audience will ever recognize. Right down to several scenes directly ripping Silence of the Lambs among other classic films.
"I'm getting too old for this poop." quips a grouchy Butch.
Did they really just do that to Lethal Weapon? Oh god, that sums the movie up right there... The only good thing one could defend about this film is that the effects team did a nice job making it look like the animals were talking. In the end the talent they tapped for this movie was wasted even though the voice acting was decent because they have absolutely nothing to work with here.
The plot was horrible too. Kitty Galore, a hairless atrocity seeks revenge for her abandonment after a tragic accident ripping the Joker's transformation in the 1989 Batman movie that left her skin bare and ugly. As expected in cliched typical evil villain fashion, she informs their enemies before their evil plan is executed that they plan on taking over the world in a few days. Obviously that doesn't sit well with a lot of people, including cats and dogs who both love their homosapien friends. If she isn't stopped she'll release a device that emits soundwaves that make dogs attack their owners.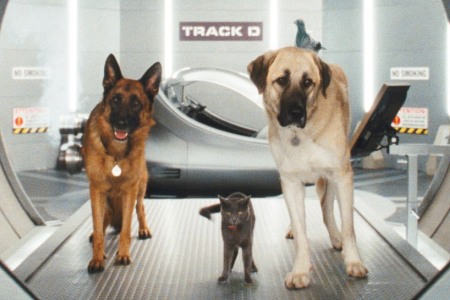 Grudgingly, super-secret dog and cat spy agencies join forces and send their best agents in the field on a mission to stop her, including an untested rookie police dog who ruins just about everything. One of the plot points I found most bothersome about the story is apparently humans are "defenseless" without man's best friend to protect them or something. How the heck is the angry kitty with a grudge against mankind going to enslave mankind with about three lackey cats. Yes, I'd honestly guess it was about three judging by the number of underlings she had working under her, Apparently this cat's a threat we gotta take seriously. Yeah, I don't get how that works either, seeing how humans have guns and both the cat and dog species in the movie are totally adamant against Kitty Galore's evil master-plan and refuse to let her hurt us.
Lou, the hero of the first movie is now slammed in a desk job as the leader of the dog agency, which is both insulting to people who liked the darling Beagle puppy and illogical to the story, seeing how he refused the offer to join their agency at the end of the first movie, opting for a simple life with the boy who owns him he declared his best friend during the climax of the first movie.
Diggs is the new hero, an arrogant German Shepard serving in a K-9 unit alongside his handler. Diggs lives in and out of kennels his whole life and for god reason. He makes trouble and lots of it. He's stubborn, reckless, impulsive and doesn't listen to anything anyone tells him. Then we have Catherine the Russian Blue kitty who is a smartass and basically questions everything the group decides to do. She doesn't like dogs either.
Further playing on the James Bond theme they're going for in the sequel, Roger Moore, a former 007, makes a brief but totally useless cameo as the voice of Tab Lazenby, the skittish and mild-mannered leader of the cat spy agency. The tuxedo cat only appears for like two minutes throughout the duration of the movie. Again this is another example of how they totally wasted the talent in this film.
On a side note I never complain about 3D, but the 3D in this was really bad when I saw it. That's probably what you get when you rush a film's post conversion to 3D in desperation to get moviegoers to fork over the extra charge for the privilege to wear those silly plastic glasses. The title credits were good in 3D, but nothing else, really. Overall this was the worst excuse for family entertainment 2010 had to offer. The only thing that was great about the movie was the Coyote Falls cartoon preceding the movie, but then again that's Looney Tunes and to be expected.
This film wasn't a disappointment, I never expected myself to enjoy it, but that doesn't give it a reprieve for being so awful. It's not the worst film out there, but don't you deserve to have a good time if you're spending $10 to go to the movies?
D-