Alright, it seems to be working again.
Real Name: Rein Delany
Super Hero/Villain/Renegade/etc Name: Rumble
Title: The Remarkable Rumb;e
Alignment: Hero
Age: 19
Gender: Female
Hair: Red (Pink in picture)
Eyes: Green
Height: 5'5"
Weight: 103
Costume:
That with a blue mask.
Personality:Somewhat childlike and a bit immature. Mostly in it for the thrill. But she has a kind heart and won't back down if someone or something she cares about is at stake.
History: Rein was the sister of world renowned scientist, Genis Delany. But after the accident that drove her brother insane, she vowed to protect his work from those who would try to steal his inventions. She dawned the cybernetic gauntlets and boots her brother'd invented for the mysterious "Company" and used their many functions to assume the role of Rumble. However, she soon found that there was a defect and there was no way to remove them. Instead, using the psionic link system within the devices, the can will them to hug her skin, taking the shape of her actual body.
Powers: The boots allow for semi-superhuman speed and the ability to clear up to three story buildings in a single jump via anti-grav discs in the soles. The gauntlets come with a built in pulse gun, "electric-whips", supersonic vibration engines, and a shield in the left arm.
_
Real Name: Kimberly Monet
Super Hero/Villain/Renegade/etc Name: Mana
Title: The Dazzling Mana
Alignment: Hero
Age: 21
Gender: Female
Hair: Black
Eyes: Blue
Height: 5'9" - Varies
Weight: Weightless
Personality: Mana is a generous and kind person who is always willing to give to others and do the best she can to help them. But she's detached from the world in a sense so she isn't always sure how to do so.
History: A freak car accident had Kim drive over a cliff. She was thrown out and cast into the vicious waters below. But as she sank, she'd fallen into a shipwreck and on it was a blue talisman. Her body absorbed all of the rock's energy, forever changing her biology. . .assuming she still has any. It was from there that she'd met the leader of The Company and became a hero while learning to better control her new body and powers.
Powers: Mana's body is entirely composed of a mysterious magical aura from the dimension of the Norse Gods. This is only known because the great Balder had informed her of its origin place but not its actual origin. He believes it to be black magic. Mana can manipulate this energy in several ways, altering her height and strength as well as manipulate to create solid substances with it. As such, she wears a special bracelt to maintain a physical form. She can also project different intensities of heated blasts of the energy but this does drain much of her power and requires a recharge after repeated or extended use. The level to which she can manipulate her own physical strength isn't known but it's believed to border that of the norse god, Thor. The chain she carries is frequently weaponized by being charged with this energy, which does preserve much of her strength.
Appearence/Costume: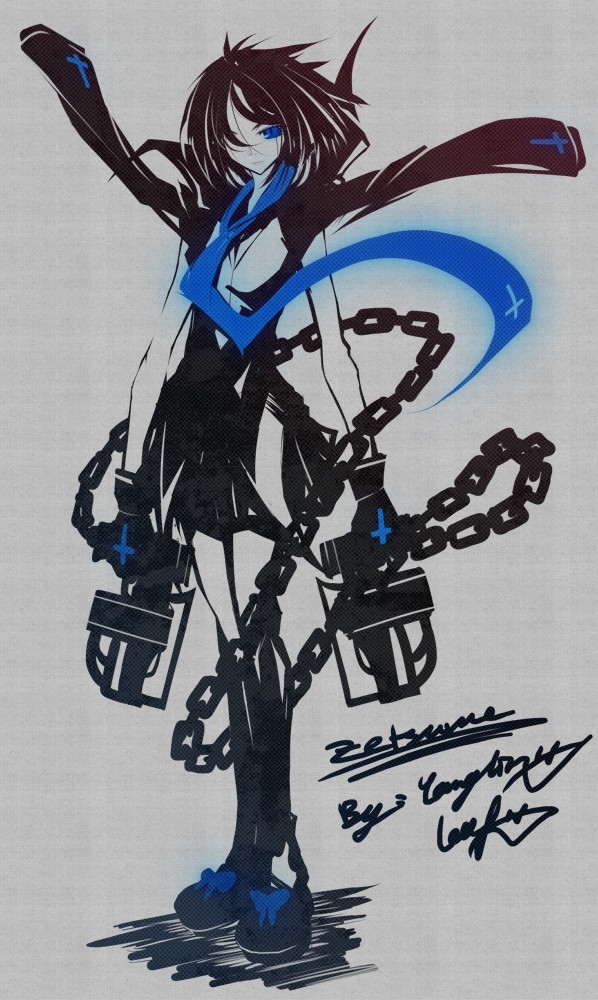 _
Real Name: Drake Tuesday
Super Hero/Villain/Renegade/etc Name: The Wonder
Title: None
Alignment: Hero
Age: 31
Gender: Male
Hair: Black
Eyes: Yellow
Height: 6'6"
Weight: 177lbs
Appearence/Costume: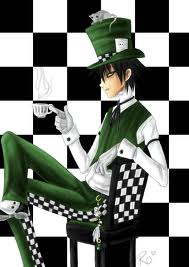 Personality: This far insane genius is eccentric, calculating, and infinitely devious to a point where the company tends to only deploy him in emergencies.
History: Drake was already government agent, just not for the company. He was a soldier and intelligence officer. But they sent him to retrieve a military weapon and his plane was shot out of the sky by the enemy. His parachute failed but he was able to land safely by tumbling down the leaves of some large trees. Taking cover in a small hole beneath the tree, Drake found several items includinging an abnormally large pocket watch, a teacup, a full deck of red heart playing cards, and, his personal favorite, a strange green hat.
Powers: The pocketwatch allows the hatter to bend and twist the laws of time. The Cards act as easy use throwing weapons that apparently never miss. To drink any beverage from the teacup will greatly enhance Hatter's strength, hoever it also drives him more insane until the effects wear off. The Hat seems to allow Hatter to alter several rules of physics. While not all, he does demonstrate the ability to manipulate gravity in an as of yet unknown range, the mass of himself and anything he touches, the acceleration/force of himself in his movements, and projection of energies into a pseudo-solid beam.
_
Real Name: Harry Conway
Super Hero/Villain/Renegade/etc Name: Raid
Title: The Unstoppable Raid
Alignment: Hero
Age: 22
Gender: Male
Hair: Grey
Eyes: Blue
Height: 5'11"
Weight: 163lbs
Appearence/Costume:
Personality: Dark and Quiet but caring and sincere. Acts like he doesn't care most of the time. Sort of in an attempt to be cool.
History: Harry was a test subject snatched up from the streets one night by the Compnay of Underground crime simply known as the notorious Syndicate. They attempted to create the unstoppable being. They nearly succeeded. He escaped, however. After his innitial debut, The Company immediately decided to get to him before the Syndicate could get to him. Now he fights to take down the Syndicate as well as the evil in the city.
Powers: Raid's shadow is alive in a way. He con give it mental commands and it will carry them out and it's unstoppable without light. The shadow is allowed to leave Raid's body and ttach itself to another's, providing Raid with the ability to mentally control them. It can also act as a solid force.
_
Real Name: Caroline Fischer/Calysto
Super Hero/Villain/Renegade/etc Name: Calysto
Title: The Mystical Calysto
Alignment: Hero
Age: 24
Gender: Female
Hair: Black
Eyes: Blue
Height: 5'4"
Weight: 111lbs
Appearence/Costume: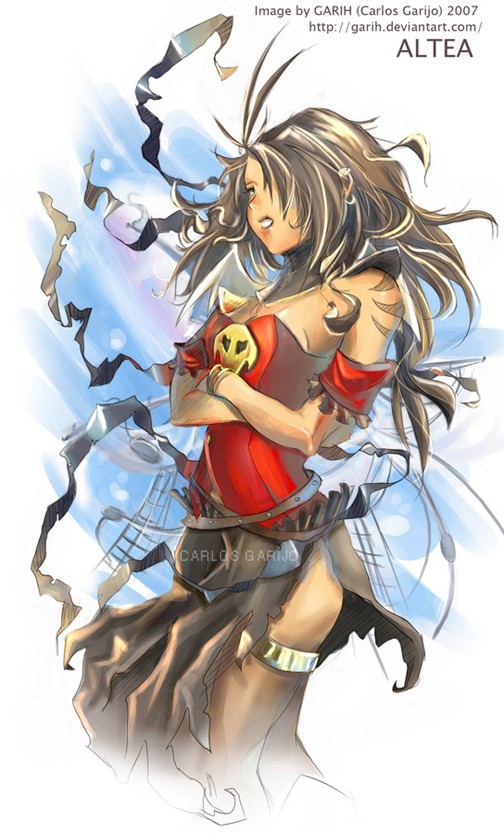 Personality: Caroline is stubborn but with a sense of duty. She has a mother-like quality in her that makes her wish to protect everyone. She's probably the most mature one there. Calysto is the opposite side of this coin. She's shy and timid espite her near omnipotence.
History: Caroline was assistant to The Company's director and chief. But a mission involving the Hatter's time travelling abilities took a turn for the worse. She was accidentally brought back with them to an area unfamiliar to them, probably never documented. There they met Calysto, a mystical nymph with magical abilities. Hatter had to immediately return Caroline to the present upon finding her because she didn't know of the possible time altering effects. When she met Calysto, she helped her escape from some brutes. Hatter found Caroline and began to transfer her back but Calysto was still holding onto her amr, trying to say goodbye and thank her again. In the transfer, the magic of the Hatter and Calysto's magic formed a strange reaction that fused the two girls mentally, and, in a sense, physically. From then on, the two girls have formed a vital member of the superhero community.
Powers: Calysto can project herself on an astral plane that only Caroline can see. When need be, Caroline and Calysto can switch bodies, that is to say the Caroline's body becomes astral and Calysto's becomes physical. The hindering factor is that Calysto cannot maintain her physical form for, so far, longer that two hours and it depends on how much energy she uses aside from the maintenece of the form itself. Calysto is capable of manipulating pheromones as well as controlling Fire, Water, Sand, Wind, Lightning, and Darkness, making her very powerful. She can also read minds to a minor extent.
_
Real Name: Pepper Royce
Super Hero/Villain/Renegade/etc Name: Cyber
Title: The Sensational Cyber
Alignment: Hero
Age: 21
Gender: Female
Hair: Brunette
Eyes: Blue
Height: 5'10"
Weight: 107lbs
Appearence/Costume:
Personality: Tomboy and a bit of a show off. Also somewhat overly energetic at times. But also serious about what she does and will never back down.
History: Cyber is the kid sister of The Company's Director and Chief. She'd been born with a unique energy sponge power. She can absorb electricity but for a time it seemed useless other than to shut off noisy devices from yards away. Since she joined The Company as a hero, they'd developed a special suit for her that benefits her powers a great deal. Not only does the suit allow her to charge up her body, giving her near superhuman potential in strength and speed, she can alls concentrate the electricity and control it to some degree. This power also allows her to manipulate technology such as computers and security systems.
Powers: Read History
_
The Company
The Company is where anyone with powers signs in to become a superhero. In a worl where being a superhero is a government paying job, The Company is a vital extention to the Department of Defense in America and around the world. The Company swears they'll never use their assets in any acts of war other that war on crime and world crisis. It's run by Wallace, or as known in a former life, Monopoly.
Real Name: Ronald Blake
Super Hero/Villain/Renegade/etc Name: Demo Reaper
Title: None
Alignment: Villain
Age: 30
Gender: Male
Hair: Black
Eyes: Red
Height: 5'10
Weight: 140lbs
Appearence/Costume: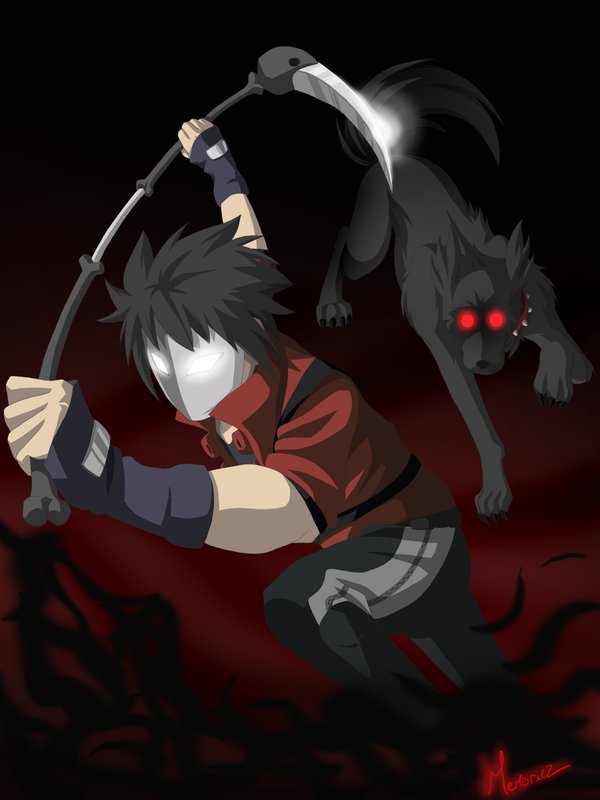 Personality: Apparenly, Demo Reaper hasn't one. He doesn't even speak but it seems that he enjoys causing pain so sadistic might be an accurate word.
History: No one knows. He appeared randomly and started up a massacre. The Company put him away right after that. He didn't even put up much of a fight.
Powers: Demo Reaper holds a scythe that allows him to control demons. The blade is also forged of the strongest form of metal in existence, demonic steel. It can cut absolutely anything.
_
Real Name: Xander Kronn
Super Hero/Villain/Renegade/etc Name: Shield
Title: The Impenetrable Shield
Alignment: Villain
Age: 19
Gender: Male
Hair: Red Head
Eyes: Blue
Height: 6ft
Weight: 120lbs (w/o Armor), 700lbs (w/ Armor)
Appearence/Costume: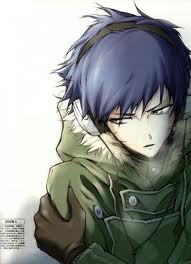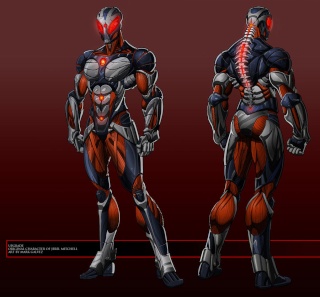 Personality: Xander is cold and vengeful. He has a strong hatred for The Company but specifically hates Rumble. When they were in school together, Rumble frequently made fun of him. As they grew it only got worse as Rumble was more active and Xander was physically underdeveloped, proving to be rather weak on many occasions.
History: In school, Xander was tormented by none other than Rein Delany A.K.A Rumble. Growing up, he developed a strong hatred for the girl. Later, Rumble would apparently ruin his life in wrecking his car and getting him kicked out of school. He'd been walking home when he discovered Rumble leaning in an alley, waiting for the Company transport. She'd removed her mask and like that, he knew. He vowed to find some way to make his enemy pay dearly for all the pain she'd caused him. That is when he was introduced to the metallic alloy from the future known as Herculean Steel. The alloy bonded to Xander, melding with his mind, telling him that in the future, the Company eliminated its reign as the dominate species of the planet. The two shared an enemy and once bonded, the two were inseperable.
Powers: The Armor allows Xander several impressive powers. These include Class 6 Superhuman Strength, Cyber-Kinesis and Technopathy, complete and total immunity to conventional injury, absorption and relocation of any form of energy projected upon him, the ability to detect anger beforehand, and greatly heightened agility.
_
Real Name: Nathan March
Super Hero/Villain/Renegade/etc Name: Wreckingball
Title: The Immovable Wreckingball
Alignment: Villain
Age: 29
Gender: Male
Hair: Black
Eyes: Yellow
Height: 7ft
Weight: 1400
Appearence/Costume:
Personality: Simple minded street thug.
History: Nathan's only goal in life was to get a big score. He innitially tried his hand at baseball. But he eventually was found out to have been on steroids. When he was banned, he turned to crime. After getting in one the organized crime circuit with a notorious Crim Boss, he was offered the chance for the biggest score ever. He would become a test subject for a sort of mega-steroid. When he agreed, he underwent the process. While at first it only seemed to grant him near inhuman strength it proved to later have a negative effect, making him too massive for his own good at seven feet tall and near 1400lbs. He'd become a muscle bound monster. This drove him into a rage immediately and he attacked the city, only to be arrested by the company and placed into the level 4 superhuman security floor of Riker's. But he recently escaped thanks to a riot proveded by Aftershock, in which many other convicts apparently escaped.
Powers: Strength being rated on a scale of 1-7, 7 being the highest, Wreckingball possesses class 6 superhuman strength. This too grants him the ability to leap clear over more that ten rooftops in a single bound and makes him, not only bulletproof, but generally immune to conventional damage. He has surprisingly good accuracy thanks to his short lived baseball career.